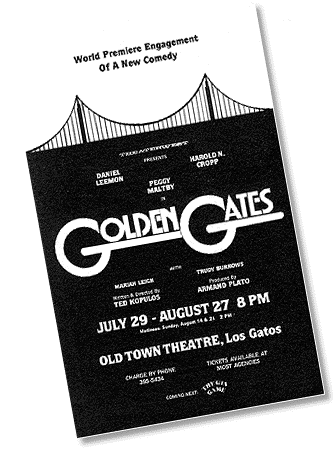 After finishing Doubles, a series of semi-related vignettes, I started wondering if I could write a play which sustained the same characters from start to finish. I had written screenplays and teleplays, but they can rely on many other factors to keep things interesting.

I also knew that in order to get the play produced (theater money was real tight in the 1980's), I had to limit the cost of the production by keeping the cast small and the sets to a minimum.

I also knew that I wanted to write a comedy. Let's see--a small cast, one set and a comedy. There was only one playwright whose example I could follow--Neil Simon. Coincidentally, Simon's film version of You Oughta Be in Pictures had just opened and I found myself interested in what the film said about parentage.

Having grown up in the television generation, I was bombarded with the "single father" shows like My Three Sons, Bachelor Father, Family Affair ad nauseum.

I wondered what would happen if a man conceived a child the first time he had sex. There had been many stories about young mothers, but virtually none about young fathers. Of course, I couldn't write a play about a sixteen-year-old raising a baby. Babies are notorious for not remembering their lines or cues.

So I set the play some twenty-years later with the father and son living together more as brothers than parent and child. The father, still single, was becoming a somewhat sad, lonely character despite his sense of humor, so I decided to introduce a love interest to mix up the father/son relationship and show another side of the father.

To further emulate the Simon style, I mixed in the mother/grandmother and the son's strange girlfriend for additional comic relief.

Golden Gates is admittedly formula, but I laughed a lot while writing it and while working it through with the cast.

The show also has another personal meaning for me. My father passed away during its run. And while he never got to see the show, he knew I had finally gotten an original one produced at a community theater level.